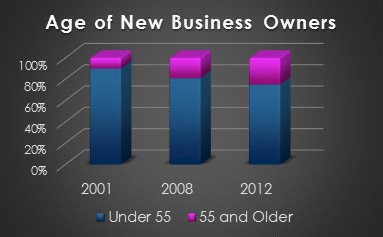 Is Coaching Part of Your Encore?
by Ruth Tongen
Encore career is the term used for second half of life work that has greater personal meaning and creates social impact. Are you considering an encore career in your future?
Age of New Business Owners
The number of people choosing to pursue encore careers is growing rapidly. In 2011, Penn Schoen Berland found that 4.5 million Americans between the ages of 50 to 70 are in encore careers and 21 million will join them in the next five years. Studies by Babson College and the Kauffman Index of Entrepreneurial Activity found that in 2012, nearly 25% of all new businesses were started by people age 55 and over, compared to just 10% in 2001. This is in part fueled by people starting encore careers. Are you one of them?
People engaged in encore career work report a number of benefits, as reported by AARP:
They feel less isolated and more connected to the world.
They experience greater meaning in each day through learning, setting and achieving goals, and making use of their lifetime of skills, interests, and knowledge.
89% of those working later in life report being happy at work.
Their average physical activity increased.
They had short-term gains in the executive function of the brain. Declines in the regions of the brain vulnerable to dementia and Alzheimer's were reversed or halted in the males studied.
The Center for Retirement Research at Boston College found this group reported fewer depressive symptoms, fewer functional limitations, and a self-reported a higher level of health.
The Wisdom of the Whole integral coaching model can be the perfect means to propel our encore career into action. Encore work calls for integrating all that we know and have learned over our lifetimes, as well as what we've always wanted to pursue. This model of coaching is centered on integrating all the ways of being, thinking, and doing. It is not only a great method to help us navigate our own second half of life, it is also a powerful vehicle for doing important transforming work for those we serve, combining with our lifetime of knowledge and skill.
If you are pondering an encore, and are not yet sure about your focus, you may engage in a process of discerning how to personalize it into something deeply meaningful for you. Meaning isn't created, it is discovered in you. This stage of getting your compass pointed is very important and can be a lot of fun. Marci Alboher, vice president of Encore.org says the average person spends 18 months in this stage.
What might you incorporate with coaching (or vice versa)? What interests have been calling out to you that might point you to a focus? Is there a population you've wanted to work with that you could more meaningfully serve in a new way using coaching skills?
Here are some basic questions to ask yourself if you are pondering an encore career:
Do you want to stay in the same field or do something new?
As you look around the world, what problems and issues (big or small) do you feel are yours to take action on?
What keeps showing up in your life as an interest?
How much income do you need to earn, if any, at this stage?
What feels undone?
Are there skills from your past work you want to bring forward?
What keeps showing up in your life as a theme?
The best may be yet to come for you. I recently visited with a 96-year-old who told me these were the happiest years of his life because he now gets to do what he really cares about. Knowing the many benefits of an encore career may inspire and encourage you to take the next step in your exploration. You are not alone on this journey, but your path and the encore you choose is uniquely yours. May you enjoy many juicy, meaningful hours of discovering and designing your next chapter that reflects you!
References:
Civic Ventures and MetLife Foundation. (November 2011.) Encore Career Choices: Purpose, Passion and a Paycheck in a Tough Economy. (Survey conducted by Penn Schoen and Berland)
Deevy, M. (2013). Senior Research Fellow, Stanford Center on Longevity.
Fairlie, R. (2013). Kauffman Index of Entrepreneurial Activity, 1996-2012. Ewing Marion Kauffman Foundation.
May Alboher, M. (2013). The encore career handbook: How to make a living and a difference in the second half of life. New York: Workman Pub.
Shigawa, S., Bridgeland, J. (2016). An Encore of Service: Experienced Americans Helping Vulnerable Youth. Encore.org
About the Author:
Ruth Tongen has been an entrepreneur for over 15 years, owning two businesses. She is a registered nurse and nurse coach with a master's degree in Oriental Medicine. Ruth operates a private practice to help people with chronic illnesses and health transitions. She also owns a consulting/coaching business to help individuals and organizations with strategic foundation, workflow, and growth and transition. She has special interest in blending both backgrounds to help people nearing retirement discern what they want to do in the next part of their life so they live with purpose. Ruth has worked in the corporate world in health care, research, as a consultant in human resources, change management and organizational development. She has also served as faculty in a master's program teaching students business start-up and management. Join Ruth this October in her Master Business Course: Vision to Action: Aligning Your Business with Your Heart, now in its second season with Wisdom of the Whole Coaching Academy.
Share: http://www.wisdomofthewhole.com/blog/Blog73/Is-Coaching-Part-of-Your-Encore