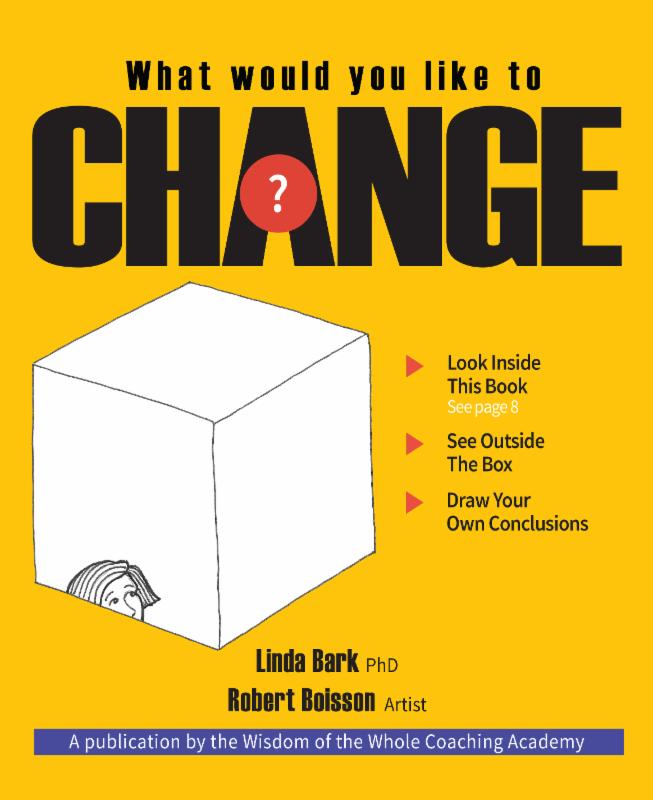 FOR IMMEDIATE RELEASEJanuary 3, 2018
"This is not your mother's self-help book."
Acclaimed Coach Publishes Interactive 'Change 2018' Book
Alameda, Calif. – Dr. Linda Bark's first award-winning book,
"Wisdom of the Whole" laid the foundation for her newly published "What Would You Like to Change?". The innovative book presents a unique groundbreaking process for change in 2018.
Dr. Bark explains, "Our times call for change, so we were inspired to create a user-friendly tool to support people who want to learn a new way to change. Most books are just to be read, but this book invites a different process. It cries out for readers to look through, read again, think and ponder, color or draw, add notes, quotes, and more. Readers add to the book to start their own changes."
Inside are 37 illustrations from award-winning artist Robert Boisson, divided into four sections that encourage the reader to examine multiple areas of their life and new ways of knowing and being. This approach is based on the Wisdom of the Whole® coaching model adapted from German philosopher and poet Jean Gebser's theory of human evolution. The thought-provoking and introspective artwork is accompanied by evocative coaching questions, encouraging the reader to reflect and add their thoughts, drawings, and unique creative expressions. The authors have also created a social sharing website where readers can upload their drawings and share how they have personalized the pages of the book.
Using insight and awareness from different ways of knowing is the way of the future. This book provides a step-by-step process for learning how to activate this powerful internal process. In the words of author Dr. Bark, "This book identifies a new way for dealing with challenges, problems, and change." Most books that come out at the beginning of the year give readers prescriptions or protocols to follow. This book is the opposite – it provides a framework to literally ask readers how they would like to dream for themselves, draw their own conclusions, and make meaningful changes in their life.
The "What Would You Like to CHANGE?" activity book complements the award-winning Wisdom of the Whole textbook "Wisdom of the Whole: Coaching for Joy, Health, and Success" by Dr. Linda Bark, the "Wisdom of the Whole Coaching Toolcards for Joy, Health, and Success" by Dr. Linda Bark, as well as the Wisdom of the Whole Coaching Academy's coach training courses.
Members of the media are invited to contact [email protected] for: • Review copy of the book• Article or extract from Dr. Linda Bark• Interview with Dr. Linda Bark and/or Robert Boisson
ABOUT THIS BOOKRelease Date: November 2017 Page #: 105 ppISBN-10: 0692982493ISBN-13: 978-0692982495List Price: $24.99
For more information on What Would You Like to CHANGE?, go to:www.wisdomofthewhole.com/change-book
To see how others have changed/colored/added their inspirations to the book, go to:change.wisdomofthewhole.com
About Co-Author Linda Bark:Linda Bark PhD, RN is a Master Certified Coach (International Coach Federation), a Board Certified Nurse Coach (American Holistic Nurses Credentialing Corporation), a National Board Certified Health and Wellness Coach (International Consortium for Health and Wellness Coaching) and has more than 25 years of coaching experience in her private practice as well as 20 years of training coaches. She has taught at organizations including Cleveland Clinic, Mayo Clinic and KPMG in India. She is founder and CEO of the Wisdom of the Whole Coaching Academy. Dr. Bark also recently received recognition for her book and Wisdom of the Whole Coaching Academy's course companion "The Wisdom of the Whole: Coaching for Joy, Health and Success" which was awarded an American Journal of Nursing 2012 Book of the Year for Professional Development and Issues. Dr. Bark's integral/ holistic coaching model is an innovative and unique approach to co-creating learning experiences that engage people and help them feel and maintain a sense of ease, power, fun, and fulfillment.
About Co-Author and Artist Robert Boisson:Robert Boisson has exhibited art and photography in numerous gallery and museum shows in California, Nevada, and Arizona. He was invited to curate exhibits for the University of Nevada and what would become the Nevada Museum of Art. He continues to exhibit with photos recently included in a New York City gallery of worldwide photographers and drawings included in a Nevada show entitled, "Identity," in the fall of 2017. His professional career in advertising, marketing, and media has included positions of creative director and vice president with ad agencies, director of promotion for the nation's newspaper, USA Today, and marketing development director for various newspapers within the Gannett company. He has collaborated with Dr. Linda Bark as an artist, writer, and marketing consultant since the 1970s, sharing a desire to help others discover their inner strengths and maximize their abilities to achieve their own unique goals.
# # #The Wisdom of the Whole Coaching Academy (formerly Bark Coaching Institute) is an international organization on the leading edge of holistic coaching, bringing the Wisdom of the Whole® model to transform and expand the coaching and learning paradigm. We are a home for discovery and exploration of a new way of coaching that creates wholeness and benefits the coach, the client, and the world. We are a school with heart and integrity, led by our visionary leader, Dr. Linda Bark, a pioneer in the field of professional coaching and nurse coaching.
Share: http://www.wisdomofthewhole.com/blog/Blog45/Dr-Bark-Publishes-New-CHANGE-Book