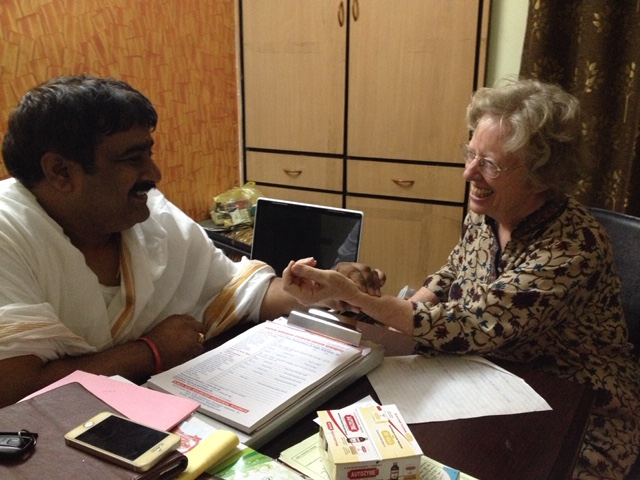 As some of you know, Dr. Linda Bark was in Hyderabad, India, for Panchakarma, until late November 2019. The Raju Panchakarma Health Center is in Hyderabad south India. It is run by 13th generation Ayurvedic physicians…it's the "real deal!" The fathers and mothers in the family line prepare some of the medicines for their children to give when they become physicians…because some preparations can take 50 years before they are ready to administer!Here was Linda's schedule for a typical day at the health center:
7:30 a.m. Breakfast
8:00 a.m. to 8:30 a.m. Doctor's Visit
9:00 am to 12:00 p.m. Morning Treatment
12:30 p.m. Lunch
2:00 p.m. to 4:00 p.m. Afternoon Treatment
6:00 p.m. Dinner
7:00 p.m. Evening Treatment
| | |
| --- | --- |
| | |
| Linda with Dr. Krishnaji. | |
During the doctor's visit, the Ayurvedic physician would do a pulse reading and ask how Linda had been doing over the last 24 hours (even asking about dreams), and then would decide on the treatment for the day. Linda had a morning treatment called a Four-Handed Massage where trained Panchakarma technicians stood on each side of her while she was on the massage table in order to conduct the same massage movements on either side, at the same time.
Lunch was simple food, usually consisting of rice and dal, as well as cooked vegetables and a small sweet for dessert. Afternoon treatments would consist of Tachadara, where cool buttermilk was dripped across her forehead and third eye. Other treatments included herbed oil dripped over different organs of the body such as the heart, stomach, liver, spleen etc. Dinner was also a light meal (usually soup and dal). Then, the evening treatment consisted of special oils placed on the crown chackra, as well as a foot massage with special oil. After that, Linda was tired and ready for bed!
It's an intense process that first works on getting toxins out of tissues, and then moves into the organs (to get toxins out of the organs). The cleansing process is not just about the physical though, Linda's experience is that old memories come up to be discarded, along with old patterns and thoughts that no longer serve. Twice a day there were Hindu priests chanting next to the doctor's office, and there were special times for rituals as well. The healing center requires at least 21 days of detoxing, and then the remaining days were for Linda to build her (new-and-improved) body, which also included special herbs for her to take at home.
We hope you found this interesting! Linda's experience is one of the many ways we can consciously release the old and welcome in the New Year ahead of us!Warm regards,Wisdom of the Whole Coaching Academy
Share: http://www.wisdomofthewhole.com/blog/Blog14/Panchakarma-Linda-s-Experience