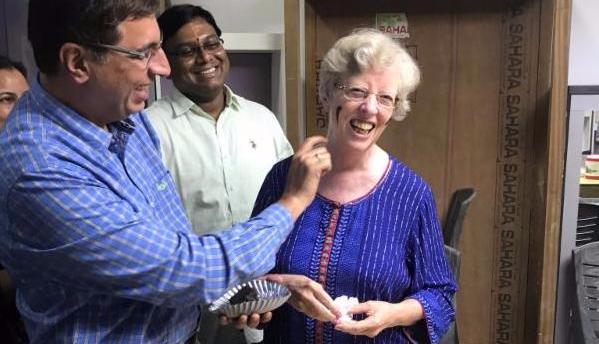 Dr. Linda Bark is just getting home from the Preeti Rao Weljii Center in India. Preeti Rao is the first health
Linda getting cake on her face.
and wellness coach training company in India, and Linda was very excited to be teaching there! Her trip was incredible, and she made some wonderful connections during her two week visit. She spoke at the Weljii Dialogs for dignitaries and others in India and said "It was an extraordinary experience!"Preeti Rao gave Linda a going away party after the Weljii coach training. It is a ritual in India to feed cake to the guest of honor, but you can also put it on their face…so one of the doctors did just that, and you can see how much fun Linda was having!Linda was able to take some time for R & R in the high mountains and lakes of Kashmir before coming home. What a beautiful place!
Share: http://www.wisdomofthewhole.com/blog/Blog58/Where-in-the-World-is-Linda