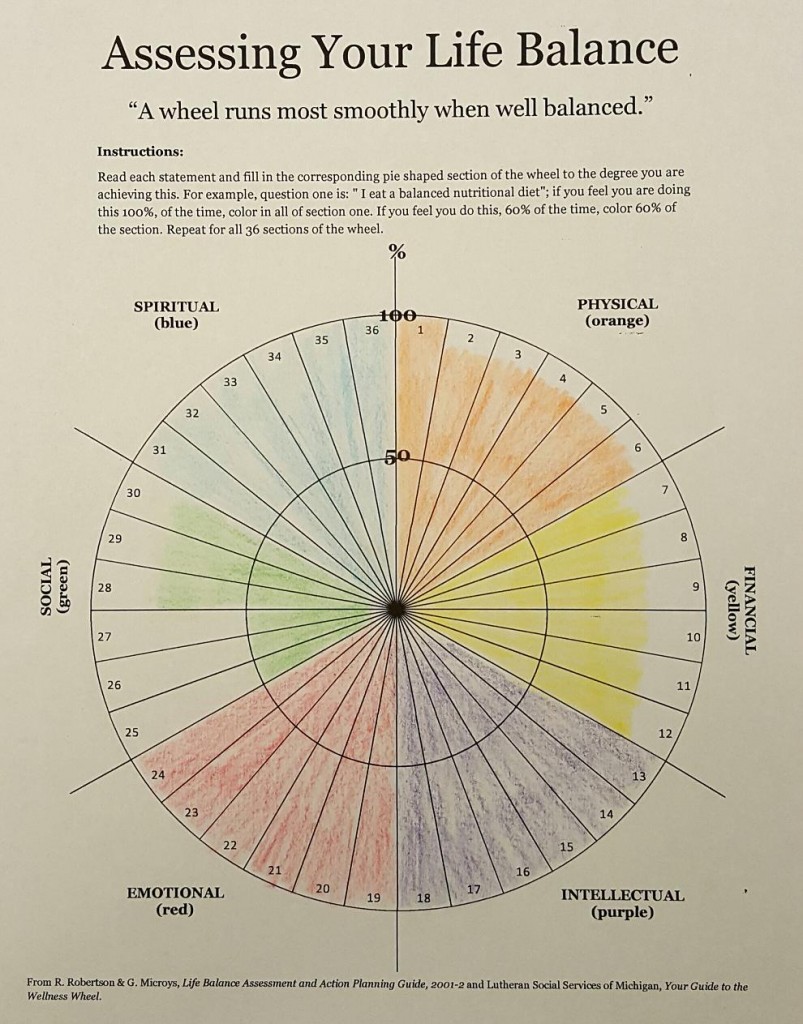 A New Year, A New You!
2016 has arrived! What New Year's resolutions did you place on your list? Eat healthier? Drink a green smoothie daily for breakfast? Go to the gym every day?
Clichés aside, many of us intend to create new healthy habits at the start of a new year, and as coaches, we often hear clients voice similar desires. This unique time of year presents opportunities to pause, reflect, and assess balance in life, as well implement changes for increased life satisfaction. Using an assessment tool in these instances can help to increase awareness, evaluate progress, and achieve self-derived goals.
The Wellness Wheel is an assessment tool based on the Six Dimensions of Wellness Model developed by Dr. Bill Hettler. Variations on the Wellness Wheel exist, but all types include questions that address an individual's degree of satisfaction in (a minimum of) the following six categories: occupational, physical, social, intellectual, spiritual, and emotional. The Wellness Wheel is displayed as a pie chart, and each section of the pie chart represents a category; smaller divisions within each section represent the degree of satisfaction for each particular component. The concept of a wheel then serves as a metaphor for how smoothly life is moving along.
Some variations of the Wellness Wheel invite active participation, and instruct the individual to color "spokes" on the wheel to indicate a response to each question within a category. The interactive coloring allows the individual to mentally and physically participate in the assessment, be in the present moment, and let go of other thoughts. The colored wheel at the end of the assessment allows the individual to easily see and assess areas which might be out of balance and lacking personal satisfaction. I find The Wellness Wheel to be a useful addition to my coaching toolkit, and something that aligns very well with Jean Gebser's Mental Structure of Consciousness, as described by Dr. Linda Bark. (Bark, 2011, Page 145)
To bring balance to my life, I let go of many cliché New Year's resolutions. I opted instead for the mantra: "I have chosen to be happy because it is good for my health." Voltaire
Wishing you peace and balance in 2016!
Diane Shaver, RN, MSN, NC-BC, is a Registered Nurse and graduate of the Wisdom of the Whole Coaching Academy. Diane has over 35 years experience caring for adults and children in acute care hospitals and community health settings focusing on patient education, health promotion, and holistic nursing. http://www.shaverdiane.com
References:
Bark, Linda. The Wisdom of the Whole: Coaching for Joy, Health, and Success. Create Space Independent Publishing Platform, 2011.
Share: http://www.wisdomofthewhole.com/blog/Blog82/A-New-Year-A-New-You