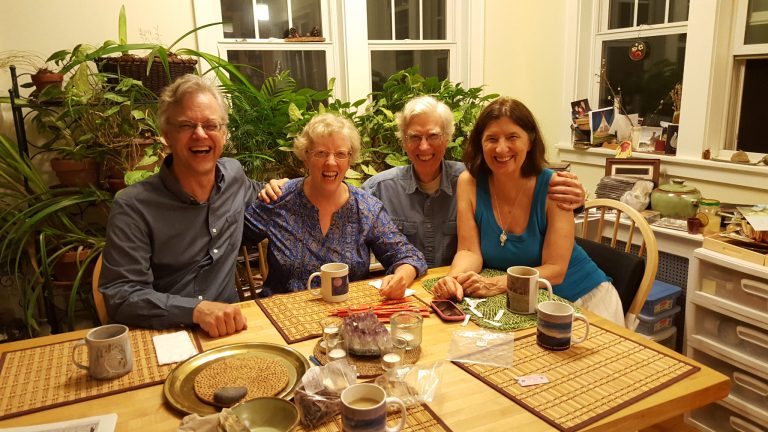 As you can see from the picture above, Linda met with close friends and colleagues in Asheville, NC this summer after presenting her integral coaching model at an MAHEC continuing education event. They talked about Duncan's social venture Trusted Sharing and how it can help Wisdom of the Whole Coaching Academy as an organization be more integral. They also talked about (as they have talked about for years) how to live more consciously in a world that often ignores wholeness.How do we live with one foot in a logical, linear world, and one foot in the integral? What does 'the integral' even mean? And why would we benefit from learning about it?
These are questions often considered at Wisdom of the Whole. More and more people are seeing how coming from a multidimensional perspective has many benefits like more ease in decision making, feeling more peace and calm, or more work satisfaction to name a few. Because we have been getting calls from people who are interested in our philosophical approach (and last month we talked about how we explain integral coaching to others), we would like to share what we say when someone asks us to explain the integral philosophy itself in more detail:
The integral, simply put, is about everything; it is all-inclusive and equal. It's about body, mind, spirit, AND what surrounds us (both seen and unseen). All perspectives that come from within us are important to consider, and we respect the (non-violent) perspectives coming from the people around us. We don't try to be the same; we like both our differences and similarities, and see the interconnection (and influences) of everyone and everything on this planet.
As Dr. Linda Bark wrote in her book, the integral is: "The Land of And."We hope you enjoy many "integral" conversations in your near future!
Warm regards,Wisdom of the Whole Coaching Academy
Share: http://www.wisdomofthewhole.com/blog/Blog74/What-Does-It-Mean-To-Be-Integral